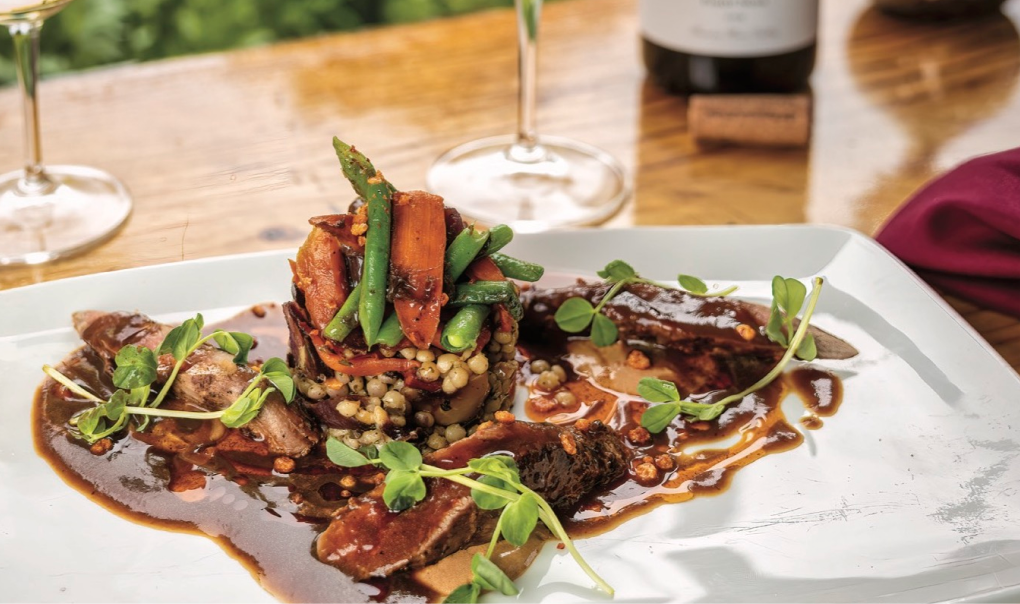 Rose Harissa
Yield: 1+ pint
1 1⁄2 cups dried chili (Nora), de-stemmed and de-seeded
2 teaspoons caraway
1 tablespoon coriander
2 teaspoons cumin
14 garlic cloves, chopped
1 tablespoon salt
6 tablespoons extra-virgin olive oil
2 teaspoons smoked paprika
1 teaspoon paprika
6 tablespoons lemon juice
3 tablespoons Champagne vinegar
1-2 teaspoons rose water (start with 1 teaspoon and add more is desired)
Place chilies in medium-sized bowl and cover with boiling water. Cover and let sit for about 15 minutes.
Drain water from chilies (reserve liquid for another use).
Place reconstituted chilies and all other ingredients into a food processor (or mortar and pestle), and grind everything to a fine paste.
Pass mixture through a fine-meshed sieve in order to remove skins. Reserve paste for future use.
Lamb Tenderloin with Rose Harissa
Yield: 4 servings

8 lamb tenderloins (trimmed of sinew)
1 1⁄2 cups Greek yogurt
2 tablespoons olive oil
2 tablespoons Rose Harissa (recipe above)
2 teaspoons minced garlic
2 large bay leaves, crumbled
2 sprigs rosemary, crushed (optional)
Place all ingredients together in small bowl. Cover with plastic wrap and place in refrigerator overnight.
Remove marinade from lamb, season with salt and pepper, and grill for about 2-3 minutes per side, depending on size.
Remove from grill, let rest for 5 minutes before slicing into desired size, then serve with small smear of rose harissa labneh.
Serve immediately!
Pairs beautifully with our Adam's Vineyard Pinot Noir.