We are delighted to announce your November Advocates Club Release!
Monastery Pinot Noir, 2018

97 points, Wine Enthusiast
With an inherently earthy, savory character, this age-worthy wine's velvet richness is tempered by higher acidity and oak influences. A saturated ruby color gives way to bright cherry aromas intertwined with savory hints of pink peppercorn, tar and crushed herbs. Notes of baked blueberries, cocoa powder and fresh tobacco carry through the palate, framed with bright acidity and faint tastes of citrus zest. The persistent finish culminates with savory flavors of star anise, clove and black tea.
Tasting Notes
Drinking Window: 2021 - 2026
Pairing Suggestion: Lebanese Lamb Tenderloin


Lynn's Blend Pinot Noir, 2018*
* Exclusive for 6 and 12 Bottle Club Members
94 points, Wine Enthusiast

The Mt. Eden in the blend produces aromatics of violet, blackberry and hints of clove while providing beautiful density and texture. The Quail Hill Select adds hints of red fruits, cedar and vibrant acidity. Together these two clones pair extremely well, giving this wine power and finesse all in the same sip. The resulting combination exhibits intense structure and power while maintaining a streamlined and approachable finish.
Tasting Notes
Drinking Window: 2021 - 2026
Pairing Suggestion: T-Bone Steak with Grilled Eggplant Caponata


La Sereinité Chardonnay, 2018
95 points, Wine Enthusiast
A bright golden-green color in the glass, La Sereinité emits aromas of white peach, Bartlett pear, yellow daisy and fresh rain. Upon the first sip, flavors of lemongrass, honeycomb and meringue intertwine on the palate leading to a clean finish that persists on the palate.
Tasting Notes
Drinking Window: 2021 - 2025
Pairing Suggestion: Corn Custard


Star-Status Wines

With this release, we invite you to upgrade your shipment with Lynmar's two most celebrated wines of 2020, selected to appear on the covers of America's top wine publications, Wine Spectator and Wine Enthusiast. Contact us prior to November 23rd to add these spectacular cover wines, 2018 Kanzler Vineyard Pinot Noir (95 points | $82) and 2017 Susanna's Vineyard Chardonnay (96 points | $60) to your club release, while quantities last.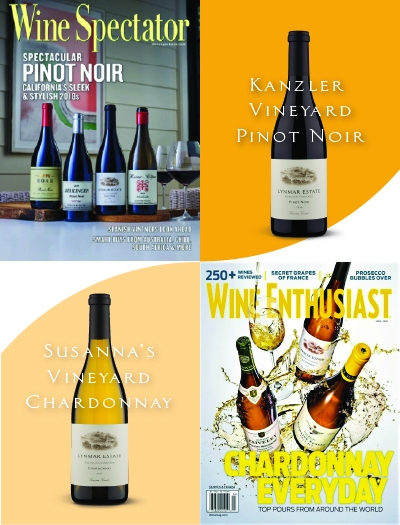 Reserve Your Place at the Virtual Release Tasting
Join us in the new year to explore the stories and tasting notes behind each new wine release. A great way to get to know and dive deeper into the Lynmar portfolio, while learning about serving suggestions, cellaring recommendations, and more! Book online by selecting your preferred date below: